Trane's Eastern Groove

Ancient Tongues

Let's Dance

Unusual Times

Mile on a Trane

Voodoo Sensuality

Galleries of Feel

Kinfolk Gatherings

Mandela A Lion King

Nabru S'reggin Creat'in

Miles plays Gershwin

Thinking of You Baby
Music Soothing to the soul. I behold thee. Dancing forth from the depths of the earth.I will guard and keep you in mind eternally. You are my soul!
JazzIs, cool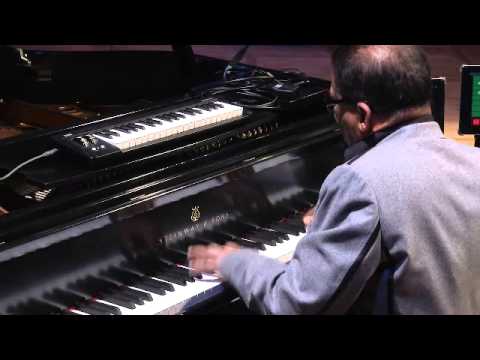 Inspired by Herbie's innovative mind, cultivated by Miles Davis, I composed this Album 'Evolution On The One' with the use of new technologies and musical innovations.
 

The Jazz Life is 'Culture within a Culture' of
'Pure Cool'
The jazz composer and performer known as JazzIs has released his newest Album, titled, "Evolution on the One." It is comprised of 12 new original tracks for an approximate total playing time of one hour and 15 minutes. It has been released on the Zip Avenue Music record label. A round and comprehensive treatment of JazzIs material, "Evolution on the One" represents myriad playing styles, tones, grooves and tempos, and represents an exceptional introduction for music fans to this highly skilled jazz player and writer.
JazzIs cites as main artistic influences such legends as Miles Davis, Airto, John Coltrane, Pharaoh Sanders, Wayne Shorter, Herbie Hancock, and Wilbur Ware. Building on these foundations with his own distinct character and perspective, JazzIs mixes traditional jazz improvisation with sonic flavors from around the world, incorporating the sounds of Middle Eastern, Asian, and African cultures as well those from many other locales.
JazzIs himself describes his record as having an "Avant garde approach based on the world's sounds. [My album has been] heavily influenced by Miles Davis and the way he taught the art of music," he writes. "Many people refer to black American Jazz as 'free form,' but fail to realize the necessity of Ear. [It is] creative expression by a culture who used music to communicate from long distances, crossing language barriers and cultural differences."
The artist has deep musical roots that reach into the very heart of jazz and soul.
"Like Miles and Herbie I had a mid-western upbringing," he writes. "I grew up with Al Green – Bobby Debarge was like a little brother. My best friend is Bernard Ware, the famous bass player Wilbur Ware's son. I have been in the entertainment Industry all my adult life and have worked with all the greats in various media productions: Tony Curtis, Bob Hope, Lou Rawls, Ray Charles, Gladys Knight, Stevie Wonder, etc."

With a history such as this, it is perhaps no wonder that "Evolution on the One" is such a masterpiece of modern jazz. One has only to hear a moment of it to know that a great work of art has been created.

"Evolution on the One" by JazzIs is available online worldwide.

-S. McCauley
Staff Press Release Writer
MondoTunes

The Album "Evolution on the One" is distributed globally by MondoTunes (

www.MondoTunes.com

) and is available at iTunes for convenient purchase and download
'Evolution On The One' by JazzIs -Review- Christopher Brown- New Jazz Editor
01) Trane's Eastern Groove –
The CD starts your journey deep in Lotus land. A jaunty classical guitar (or is that a koto?) and sly pied piper flute will be your guide. JazzIs opens his first CD with a hardy nod to Mr. Trane. You will smell the influence(s). Exotic flavors, aromas and spices are beautifully stewing here.
02) Ancient Tongues –
This track is primal & timeless. Smooth as silk, flows and ebbs like the ocean. Gorgeous keys and dreamy unwinding groove. Slick guitar licks (Abzwork), icy keys & angelic voices intertwine in a magical wonderland of textures and colors. Gives me the feel of the time of day right before dark.
03) Let's Dance –
You already know what to expect from this track, it's so freaking sweet it tells you beforehand. ☺ Slinky sexy and suave, delicious Latin/African? rhythms and scatting vocals dueling with a steaming hot flute. You will be bobbing your head and moving something to this one. Supreme percussive and groove.
04) Unusual Times –
Immediately I am thinking of Erin (Abzwork)'s guitar here. Wonderful presence and bite, snap and dynamic to this track. You feel the pulse of a big city, excitement and electricity in the air. Loads of movement and vitality, the sax flows smoothly, glides.
05) Miles On A Trane –
Simmers. This has an after party feel to it for me, or late night early morning mood. Unwinding and relaxing into it, settling back and letting the music massage you mind. Very hypnotic and intoxicating brew here. The Miles influence is melding with Trane magically. (note: I love when titles etc are 'play on words' type dealios. For example like Service Entrance (serve us in trance).
Can be spelled different ways sound the same?
06) Voodoo Sensuality –
Tribally luscious groove, sexy vocals and red hot guitar riffing. Layers of mystical bells, horns and percussive elements, swirl and churn up some major flavor. Mojo rising, hoo-doo funky jazzy uplifting experience. New Orleans, Bayou spicy, hot sauce come to mind. Wicked coolness.
07) Galleries Of Feel –
Gorgeous lead guitar and piano, very soulful and emotive. Introspective and pensive, self-assured, straight ahead, forwards. Brubeck? Influences (sorry I don't know much about Jazz). Minimalistic smaller 'band', intimate loose jam session I stumbled into while working as a janitor at the hall they are playing in. ☺ The sparser feel gives the listener a up close personal, like you are in the same room with them feel. Supreme work Richard! Upon first listen this so far is the song that personally 'jumps out to me'. Hope you know what I mean. More than meets the ear at first listen here. Deep, very deep my friend.
08) Kinfolk Gathering –
Slides and flows, sexy steamy, easy breezy, laid back. Gives the listening a care-free uplifting vibe and mood. Tripping on the drums/beats. Love the panning, delay? Whatever it is killer snare high hat everything going on beat wise, I am fully digging and feeling. Intricately loosely sculpted mighty fine. Sax is smoking, keys are real subtle and smoky ambiance. Love this one.
09) Mandela A Lion King –
Stately and regal, proud and strong. Absolutely love the warm breezes, golden rays of synths. Slick left turns on our safari. Bumping and thumping, feeling every hit of the deep rich percussion. Love the bells/chimes again. Got my notepad out taking some notes from the master. ☺ Dig the heck out of the vocal elements, again taking notes and being jealous of you.
10) Nabru S'reggin Creat'in –
Deeply interwoven tapestry of taught tension (a bit). Elements almost in battle with each other and finding common ground. Tension kicking up some ancient dust, wicked smooth liquid lead guitar. The bass and guitar are slippery and sliding supremely. Love the drums here again, feeling every bass drum kick/hit. Love the free flowing loose jam happening here. Love the title of this piece, fits it like a glove.
11) Miles Plays Gershwin –
Very sensual and steamy, gives me the feel of walking home on deserted city streets long after most of the world are sleeping. Just a few people milling about, a sax player wailing, wet streets and traffic lights. Night shift, wee hours of the morning. Burning the midnight oil and finally strolling home. The unwinding vibe again.
12) Thinking Of You Baby –
Right off the bat I have to state that Spanish / Classical acoustic guitar are my flipping kryptonite. ☺ Seriously so do I really need to go on? Euphoric for me, Latin calypso? Rumba salsa. The element here is fire, the colors are red and black.
(one of my completely off the freaking wall comments)
People wearing bull head masks. Makes me think of Picasso on the cover of Life magazine. (Remember that?) The pics of him wearing a bull mask, no shirt and shorts on the beach. Party time, bohemian, light hearted joyous, rowdy masquerade, carnival atmosphere.
I am inspired and souled by those who take chances and persevere in the pursuit of their visions and dreams. This undertaking, the creation of this site which has until now slipped through the minds of those who may have conceptualized it. yet took no action…Is now a reality. The foundation is always needed before you can enter the Penthouse.
I began my creative life many many lifetimes ago. This lifetime is one I will cherish for all eternity. For in this journey amongst the fine peoples of this world I have found my mission as a Human Being. To undertake your own personal 'Human Revolution' is indeed a courageous and bold endeavor. Art is very much reflective of this. Victor Hugo's life story is the inspiration and roadmap I use in my creative pursuits. I began my musical adventure in August of 2011 my initial interest was to produce my own Soundtrack for a Movie I've been chanting to produce for 30 years. Most people I know would not have dreamed that they would be listening to music produced by me in this lifetime. Simply because hey have never realized the potential of groove existing in each and every one of us. When I decided to take action and do what others consider impossible. My entire being was consumed in the worlds of 'realization and learning'. So the first thing I did was buy the equipment necessary to build my studio. Once my studio was complete it lay barren of any creative activity for a year. It took me that long to develop the courage and will which, would be my rod and staff going forward. I started off learning Logic Pro and Protools..eventually leaning more towards Logic and using it exclusively in the production of my first Album 'Evolution On The One'.
I have never made music before this Album, but I always knew that I could. Timing is everything in the pursuit of your mission and obviously..the time was ripe for me. So one day I decided to lay something down and begin writing and composing my music. It took me two years to complete this album. I went through tremendous emotional experiences which I know each of you have too. Each song has had a different affect on my life and I am deeply appreciative of the experiences felt. I would have never felt the joy of creating sounds that make others 'feel' had I not been born to explore, seek, and create. The Movie which motivated my need to produce music is entitled 'ZipAvenue' and is the story of my life. I was deeply traumatized by my father's death. At that time in 1965, there were very few resources available in the identification of the pain a child goes through when experiencing the death of a parent. My fathers death turned my world upside down.
A few years earlier my father said to me "Son come walk with me to your Grandmas house. he took my hand and we started off. When we reached my mothers moms house we found my mother and grandmother sitting at the table drinking beer with a male neighbor who lived across the street from our house. My father smiled, took my hand and started back to our home….Eventually my mother left us and moved across the street with the neighbor. I was not aware of how deep that was at such a young age. Fast forward to my 16th year of life. I was becoming a man and realizing what it must feel like to know your wife is living directly across the street from you with another man.

On December 29 1965 a 2:29 AM after we had been up, playing Monopoly and Bid Whisk and enjoying the holiday season with family and friends, I said to my Dad..Daddy i'm going to bed now so that I may wake up and go to my first Basketball practice since breaking my ankle. My father was laying down on the couch in front of the fireplace and raised up to ask me a question, one which was obviously on his mind. He said,"Son, do you want your mother back?" I said without any hesitation whatsoever. "Yeah Dad but, not if it means you have to leave. My Dad smiled at me and then died right then and there. You have no idea what that did to me and the choices I made after that death is the movie 'ZipAvenue'.

I lived a contradictory lifestyle for the next 16 years filled with sex drugs and rock n roll from Michigan to Chicago to Los Angeles always working in the Film and Tv industry and also Pimping women… This is what a site like this provides for us in a culture that is deep and yet oh so profound…

Thank you for allowing me to provide an avenue for those of us who truly live the 'Jazz Life"

JazzIs, cool